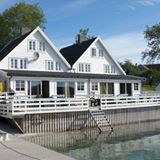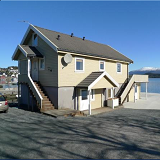 ----------------------------------
Sjo Fjordferie
Steinavegen 22
N-5454 Sæbøvik


+47 95 11 87 50


-----------------------------------
Manager :
Reidun Sjo


+47 95 11 87 50

post@sjoferie.no
-----------------------------------
Booking :
Reidun Sjo


+47 95 11 87 50

post@sjoferie.no
-----------------------------------
Opening hours:
Mandag - fredag
09.00 - 16.00


www.sjoferie.no
-----------------------------------

Cottage Eidsvik
All our vacation houses are situated just on the waterfront with a good view of the ocean.
They all have fully equipped kitchens.
Very well facilitated for fishing and we have a good selection of boats for rent.
We also have organized good facilities for fish processing and offer deep freezing of fish as well for all our guests.
Free wifi and TV channels for all our guests (Norwegian, German and English channels available).

Our vacation house at Eidsvik is a special house for those who are looking for extra comfort,
and each of the 4 bedrooms has a separate bathroom.
There is a total space for 10 persons, big terrace with a panoramic view over the fjord and mountain.
The pier are has a big floating stage, which is shared with the adjacent rental house.
Parking is next to the house. The house has electric heating, is winter isolated and has a very good standard.
Supermarket and gas station are a 2 minute walk from the house.
House is in an easterly direction with a view over Eidsvik and towards Sæbøvik.
Vårt hus på Eidsvik er et spesielt feriehus for de som gjerne vil ha ekstra komfort,
og hvert av de fire soverommene har eget bad.
Det er totalt plass for opp til 10 personer. Stor fin terrasse med panoramautsikt over fjord og fjell.
Kaiområdet er maritimt med stor flytebrygge som er felles med utleiehuset som ligger ovenfor.
Parkering ved husveggen. Huset er elektrisk oppvarmet, vinterisolert og har svært god standard.
Butikk og bensinstasjon like ved. Ligger østvendt og har utsikt over Eidsvik og mot Sæbøvik.

Photo gallery of the house at Eidsvik can be seen here.
If you want to book this house click here.
To check which days / weeks that are available, go to the calender here.



Price List :
Per day up to 4 persons, all year :
1000 NOK
Extra person per day (Children under 4yo free of charge) :
150 NOK
Linen and 2 towels, per set :
150 NOK
End of stay cleaning mandatory for all guests :
700 NOK
Boat 25 HP, per day: 4,3m (14'), plastic boat, with 25-30 HP engine :
250 NOK
Plastic diesel boat, per day: 6,9m (22'), with 15 HP engine, diesel, manoeuvering console, echo sounder, fishing rod holder, diesel included :
550 NOK
Yellowboat: 6,6m (21'), plastic boat, with 20 HP engine, 4 stroke petrol, manoeuvering console, windshield, echo sounder, fishing rod holder :
400 NOK
VAT: For this object a VAT of 8% will be added to all prices.
Booking deposit is 1.000 NOK. Cancellation within 30 days before arrival the deposit
will be reimbursed. Cancellation after this and the landlord keeps the full amount as
compensation for lost rent.