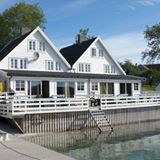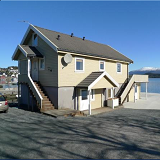 ----------------------------------
Sjo Fjordferie
Steinavegen 22
N-5454 Sæbøvik


+47 95 11 87 50


-----------------------------------
Manager :
Reidun Sjo


+47 95 11 87 50

post@sjoferie.no
-----------------------------------
Booking :
Reidun Sjo


+47 95 11 87 50

post@sjoferie.no
-----------------------------------
Opening hours:
Mandag - fredag
09.00 - 16.00


www.sjoferie.no
-----------------------------------

Cottages
All our vacation houses are situated just on the waterfront with a good view of the ocean.
They all have fully equipped kitchens.
Very well facilitated for fishing and we have a good selection of boats for rent.
We also have organized good facilities for fish processing and offer deep freezing of fish as well for all our guests.
Free wifi and TV channels for all our guests (Norwegian, German and English channels available).

At Sæbøvik we have 4 cosy cottages in a row, each with room for up to 8 or 9 persons.
Each cottage has a separate entrance.
Great outdoor space with a panoramic view over the fjord and mountain, parking space for multiple cars.
Separate space for fish processing, both inside and outside, big terrace, a floating stage and a pier are shared between all cottages.
Washer and dryer can be found in a separate room adjacent to the apartments, and can be used free of charge by all guests.

Can be rented on a day to day basis as well as long term, for larger groups a combined rent for 2 or more apartments is possible.

Photo gallery of the 4 apartments can be seen here.
If you want to book an apartment click here.
To check which days / weeks that are available, go to the calender here.




Price List :
Per day up to 4 persons, all year :
700 NOK
Extra person per day (Children under 4yo free of charge) :
150 NOK
Linen and 2 towels, per set :
150 NOK
End of stay cleaning mandatory for all guests :
500 NOK
Boat 15 HP, per day: 4,3m (14'), plastic boat, with 15 HP engine :
200 NOK
Boat 25 HP, per day: 4,3m (14'), plastic boat, with 25-30 HP engine :
250 NOK
Open dieselboat 1 and 2, per day: 7,5m (24'), wooden boat, 10 HP Sabb diesel, echo sounder, fishing rod holder, diesel included :
500 NOK
Diesel boat Fluholm and Sjoøy, per day: roofed over wooden boat, echo sounder, fishing rod holder, diesel included:
550 NOK
Plastic diesel boat, per day: 6,9m (22'), with 15 HP engine, diesel, manoeuvering console, echo sounder, fishing rod holder, diesel included :
550 NOK
Yellowboat: 6,6m (21'), plastic boat, with 20 HP engine, 4 stroke petrol, manoeuvering console, windshield, echo sounder, fishing rod holder:
400 NOK
VAT: For this object a VAT of 8% will be added to all prices.
Booking deposit is 1.000 NOK. Cancellation within 30 days before arrival the deposit
will be reimbursed. Cancellation after this and the landlord keeps the full amount as
compensation for lost rent.